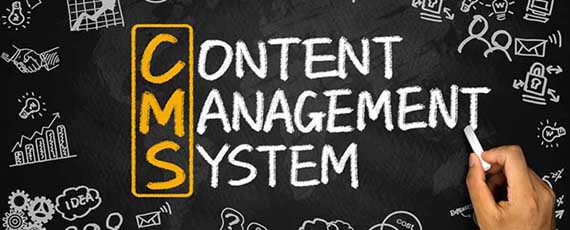 Content Management System (CMS) Websites
If secure and centralized content, swift publication creation and shorter editorial cycles is something you're interested in, or if you need to update your website often, easily, and without the aid of a web developer, then a content management system is the perfect website solution for your business.

Using a content management system to power your website may well be one of the best investments you will ever make for your website or your business. Here are ten very good reasons to consider reaching beyond the standard HTML website to a feature-rich CMS:
1. You're in control of your website.
No-one knows your business like you do. With direct control of your website content, you can manage, change and publish what you need, when you need it. Instead of relying on an outsourced or 3rd-party development company, a CMS puts you in the drivers' seat, with the ability to assign tasks and user roles, and to check progress at any time.
2. It's easy to use for non-technical people.
Everyone has a different level of expertise and comfort when it comes to technology. With even the most basic of content management systems the tasks of writing and publishing content, or adding media such as images and downloadable files, is streamlined and user-friendly. Anyone comfortable with basic word-processing software can quickly and easily jump right in and begin creating or adjusting content with very little instruction.
3. It gives you content management capability.
For a large number of businesses, content management goes beyond just publishing content and becomes more about being able to remove old or irrelevant content when it becomes out-of-date. For example, if your business is running a seasonal promotion such as Halloween or Christmas, or a time-sensitive sale, posts can be set to publish or un-publish on scheduled days and at scheduled times for perfect information delivery and retraction. You can also configure a CMS website with customizable features such as calendars, lists and even advanced analytics and search engine optimization.
4. It dramatically improves website maintenance.
Without a CMS updating images, text or other content on your website can be major hassle, having to comb through dozens or hundreds of pages, making changes on each one. With a content management system, the underlying architecture is the same, so you can perform maintenance to the CMS software, change content or even modify or integrate new functionality without breaking the website. As a matter of fact, with the right custom CMS solution, updates can even be automated.
5. Streamlined content scheduling.
Whether it's blog posts, product pages or any other type of web page, a CMS allows you to assign tasks and check that they've been completed. With at-a-glance dashboard views of content states, if it's live, being reviewed or in draft.
6. Content Security
Generally speaking, most website content is accessible to anyone on the internet once it goes live. With a content management system user privileges can be assigned so only authorized people can access specified content with unique IDs. Greater levels of modularized enhanced security and user management features can also be integrated with the system on an as-needed basis.
7. Making changes to the design and layout are much simpler.
Adjusting the position of content such as images and text on web pages can require special coding and formatting to get things to look just right. A content management system is equipped with back-end WYSIWYG editors that work similar to a word processing program in that it allows you to quickly and easily format text and images without the need to know how to write code.
8. Lower language translation costs.
You want your products and services to be advertised and available to as many potential customers as possible and that usually means incorporating language translation functionality. With standard websites content and documentation published in many languages is both confusing and costly to update and translate. A content management system website with full Unicode support allows small blocks of updated content to be translated instead of entire documents, in turn saving you thousands of dollars on manual or full document translation.
9. Easier, modular integration of new features as required.
Need a newsletter distribution system? What about e-commerce features or social media management? Perhaps a new image gallery or blog is on your list of future must-haves for your website. With traditional HTML or coded websites, that kind of request can often mean custom coding at significant expense to modify or enhance a strict and relatively inflexible architecture. With a CMS, the ground floor of your website is built on a standardized and easy-to-upgrade, modular platform that allows the addition of powerful features without compromising the existing website or content, and without the requirement to custom-code the underlying foundation.
10. You save money.
Having to hire a web developer or web design company every single time you need some content added or changed can be time-consuming in the endeavor, but moreover it can be expensive. The development rates of website development companies typically vary between $100-$300/hr and random, frequent edits can quickly add up to costly billable hours. A modest increase in the initial build of a CMS website versus a standard HTML website is far outmatched by the gains, both immediate and long-term.
–
Still have questions? Need help with developing a content management system for your business or the updating of your website? Contact us!