Website Design Solutions
Professional, streamlined, beautifully-designed; these are just some of the terms used to describe an Alchemy Imageworks website. We don't just build great websites, we go above and beyond every step of the way to empower businesses to do more, to reach further and to succeed faster with their online presence than they thought possible.
Our Process Is Different
Time is money, and we don't waste any of either. From intelligent and experienced guidance through the introductory phases of website design and website development, to asset collection and generation, market strategy, right on through to website launch and post-launch growth. If you're looking for artistic, marketable, clean and efficient responsive website production with serious attention to detail, then we're the web design company for you.
Websites We Build
Marketable and manageable web design tailor-made to reflect your business and focused on your demographic audience. From personal sites, single-page informational and promotional website design, to small business websites and enterprise-level projects, we build them all. If we're talking design options; the sky's the limit. If your flavour is clean and corporate, or high-impact and vividly colourful, or something in-between, our web design professionals can create something to beautifully match the brand and the message.
Personal Websites
Small Business Websites
Large Enterprise Websites
Photo Sharing Websites
Writer / Author Websites
Community Building Websites

Mobile Device Websites
E-commerce Websites
Informational Websites
Online Business Brochure/Catalog
Directory Websites
Blogs
It's About Building Relationships
At Alchemy Imageworks, our success is largely based on relationships and results. We truly value creating strong relationships with all of our clients in the interest of giving them, and their business, the best possible results.
Our Brochure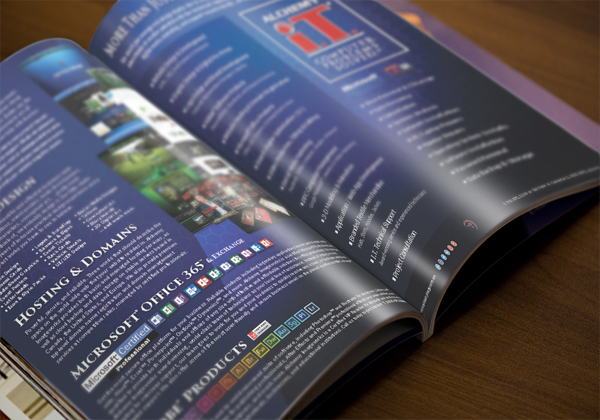 Strategic and Tactical
WordPress is an extremely popular CMS platform used by professional developers everywhere, and it has certainly earned top spot as the most widely used open-source content management systems and blogging site platforms. While we quite often recommend a custom CMS, WordPress is an absolutely great fit for a wide variety of websites. Although WordPress software is available free (as are many other open-source CMS solutions), you'll likely need help installing it, customizing it to meet specific design or layout requirements as well as learning how to use it. That's where Alchemy Imageworks' expert WordPress website developers come it. We can turn even the most mundane of WordPress websites or WordPress themes into something extraordinary and marketable.
Independent projects and start-ups
Locally focused small business owners
(eg. Doctors, Lawyers, Restaurants, Trades)
Small ecommerce business
(i.e. less than $1M in annual sales)
Medium or enterprise e-commerce business
(i.e. greater than $1M in annual sales)
Medium or enterprise national or international business
We're here to help.
We put minds at ease and bring clarity to the process of incredible website design. If you have questions, call any time. We're here to help.
Featured Website Design Projects