The Project
CD Computers is a computer repair and retail store located in Spruce Grove. Owners John and Charlene Bell needed to bridge the gap between brick-and-mortar business and the online market, and contracted Alchemy Imageworks to help them do just that. With a hometown service focus on Spruce Grove residents, CD Computers enjoys the lion's share of the computer sales and repair market in their area. They know that competing in a global market or even with a major city like nearby Edmonton can be difficult and expensive, and so rather than compete, they stay fully concentrated on their demographic area and continue to enjoy great success as a result. The website was implemented as a means of connecting with their local customers and providing an element of convenience for shoppers and alleviate the innumerable phone calls by curious potential customers who just want to know what's in stock before driving down in the middle of a cold Alberta winter.
#cdcomputers #fixcomputers #computerrepair #repairs #technicians #computertech #sprucegrove #buycomputers #usedcomputers #greatcomputerdeals
Website Strategy
Building an e-commerce website is only half the battle. Getting customers to your website, providing them an informative and intuitive shopping experience, and offering a check-out process that doesn't send prospective clients running are next in line of importance. E-commerce website development requires a lot of time, effort, and usually a greater expense, but with a knowledgeable team applying experience and proper techniques, a good e-commerce website can encourage sales, customer conversion and loyalty. Utilizing the latest content management system architecture and e-commerce plug-in solutions we locked onto a winning combination of informative and functional, with a CMS website back-end that lets CD Computers competent staff update and manage changes as they need them.
THE PREDECESSOR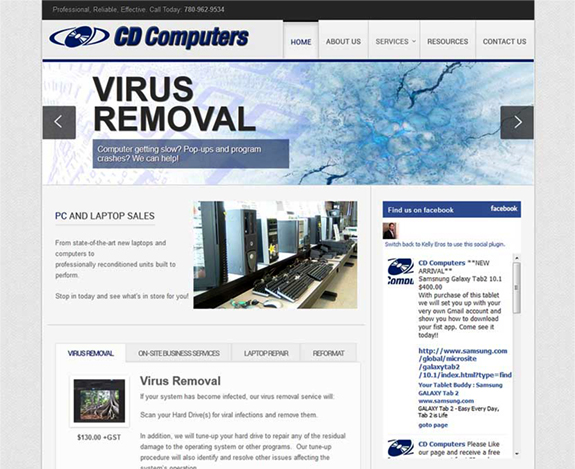 Cant find what you need?
See all services